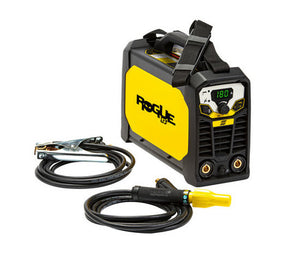 ESAB Rogue ES 200i PRO Inverter Welder Duel Voltage 0700500079
The Rogue is a robust and durable power source for the professional welder. The machine provides state-of-the-art welding performance and reliability through use of the latest high performance power electronics and Digital control; ensuring a precise consistent arc.
The Rogue provides a smooth DC (Direct Current) welding power which allows you to weld a variety of metals, such as alloyed and non alloyed steel, stainless steel, and cast iron. The Arc Force and Hot Start settings are adjustable and help the user find exactly the right arc for the job. Being digital the Micro-processor precisely controls all functions and provides Best-in Class welding performance across the amperage range of the machine. The Rogue can be used with electrodes up to 4.0mm Ø.


ES 200i PRO
Voltage
240V    /     110V

Max Output
200 A   /      110A
Current Range
10-200 A  /  20-110A

Open Circuit Voltage
78 VDC

Standards
CE
Protection Class
IP23S

Energy Save Mode
50 W

Operating Temp
-10 to +40 °C
Dimensions, L x W x H
403 x 153 x 264 mm

Weight
 200i PRO


8.4 kg