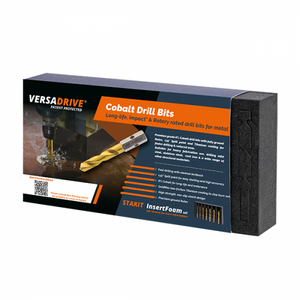 HMT VersaDrive® Cobalt Drill Bits (209010)
VersaDrive® Cobalt Drills are a premium grade 8% Cobalt drill bit with fully ground flutes, 135° Split point and Titanium coating for faster drilling & reduced wear. Suitable for heavy fabrication use, this Cobalt drill bit can also be used to drill stainless steel, mild steel, cast iron and a wide range of other structural materials. VersaDrive® Drill Bits have a patented non-slip, Hex shank suitable for use in any standard 1/2" drill chuck for cordless or pistol drills or used with a VersaDrive® Rapid Lock adapter for use in a wide range of powertools such as Magnetic Drills.
Fast drilling with minimal kickback Dual hardened for impact wrench use up to 10mm Precision Ground Flutes with easy chip clearance 135º Split Point for easy starting and high accuracy 8% Cobalt for long life and endurance GoldMax low-friction titanium coating to stop burn out High Strength, Non-Slip Shank Design
Optimum life and performance when used with rotary pistol drills Up to 10mm can be used on impact wrench & impact drivers for fast cutting performance Suitable for harder materials such as stainless steel when used at reduced RPM Use appropriate lubrication and correct RPM to achieve long tool life.