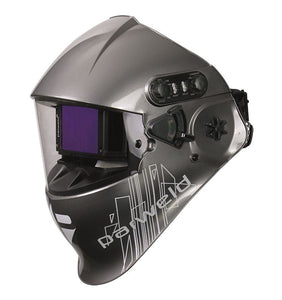 PARWELD XR939H FlipWelding and Grinding Helmet
The Parweld XR939H welding ADF (Auto Darkening Filter) flips inside the helmet to give a wide view grinding visor. The unique internal flip design gives exceptional balance. The ADF has dual shade range, variable from 4-8 and 9-13. All the controls are external so no need to fiddle inside the helmet even for the finest of adjustment. Option of grinding mode with the visor down to reduce glare when close to other welding operations. The ADF is true colour providing the welder with a clear view seeing more colours giving a realistic view of the weld.

Features
ADF Flips Up Inside Helmet.
Wide Field of View Angle.
Automatic Darkening.
True Colour View.
ADF Exceptional Clarity.
Variable Shade Control 4-13.
Automatic On & Off, built-in Battery.
Front Visor for High Impact Protection.

Technical Data
Viewing Area: 100mm × 65mm / 3.94" × 2.56".
UV/IR Protection: Up To Shade DIN 16 all the time.
Selectable Mode: Welding Shade Range / Grinding.
Light State Shade: 3-3.5.
Variable Shade: 4 - 8 / 9 - 13 (Depending on mode selected and shade control adjustment).
Filter CE Optical Class: 1/1/1/1.
Reaction Time: 0.000033 sec ( 1/30,000 s).
Shade Clearing Delay Time: 0.3s - 0.9s (Depending on sensitivity control adjustment).
Optical Sensors: Four infrared detectors.
Power Supply: Solar cells + Lithium battery (Replaceable battery: CR2450 x1).
Power On/Off : Fully Automatic.
Operating Temperature: -5°C to + 55°C ( 23°F to 131°F ).
Storing Temperature: -20°C + 70°C (-4°F to 158°F).
Helmet Material: High-impact resistant Polyamide (Nylon).
Helmet Class: EN 175 F CE.
Conforms with Standards: EN 379 : 2003 + A1 : 2009, EN 175 : 1997, EN 166 : 2001.
Total Weight: 540g.