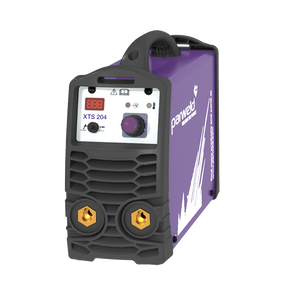 PARWELD XTS204 200A MMA Inverter
The XTS 204 is a compact but powerful machine ensuring maximum portability and performance. Electrodes up to 4.0mm can be used with ease.
Generator Friendly The XTS 204 is able to cope with inputs which fluctuate by +/-15% & can be used with the majority of generators. 
230V input
200A @ 25% duty cycle
Generator friendly
Easy electrode striking with arc force & re-striking with hot start
Supplied with electrode holder, 3m cable, 3m earth lead
Connections 35-50mm
Over voltage & over current protection
3m Input Cable, 3m Earth Lead, 3m Electrode Holder
3 Years return to base warranty + 3 years servicing plan • Manufactured to IP23S,